April 26th, 2014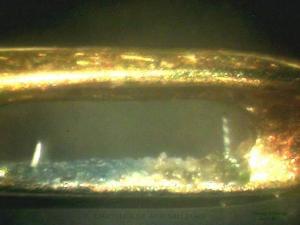 Greetings

All are WELCOME to view my MICRO ART; ANEW ART FORM that I named "NANOMICROINFINITY ART."
I do put watermarks & copyrights on my photos; some watermarks are bold.
My MICRO ART is real; the needles are smallest that I can find in the store. " At present I have created the Earths smallest striped lighthouse."
It is the Worlds smallest Microscopic seascape at present also.
The Microscopic sculpturesque are mounted in a sewing needle eye. The needle has a golden metallic eye; also the needle is a size 8.
Dimension for the size 8 needle are; Diameter .61mm , Length 28.60mm .
That needle eye opening is just big enough to pass a sewing thread thought. My Micro Art is real-life; Anew Form Of Modern Art; created the technology of Anew Modern Age
Within this needle eye is a seascape showcasing the sail of a sailboat, breaking waves on the shoreline and the tiny lighthouse.
phillip-h-george.artistwebsites.com '&' Facebook Phillip H George

Microscopist Artist & Journeyman Alchemists Phillip H George ( 7,22,2010 )
Thank You,
Phillip H George
July 22nd, 2010

"Welcome to my little world of Microscopic Art"
NANOMICROINFINITY ART is created by Microscopist Artist & Journeyman Alchemists Phillip H George.
The pictures of the rainbows are taken with a Microscopic Camera and the rainbows are in the eye of a size 8 sewing needle. "YES THAT IS TRUE"
Thought the rainbow pictures are nice. The Microscope Camera isn't powerful enough to take a full color photo of all the detail color tones in the rainbow cloudscapes.
I have created three sewing needle that have rainbow cloudscapes in the eyes.
The sculpturesque of a black & white striped lighthouse is mounted on the point of a size 8 sewing needle.
NANOMICROINFINITY ART is Anew Form Of Modern Art that showcasing New Dimensions; in the way Our World can be viewed.
Mother Earth is a Beautiful Planet we must always see to her needs and take the time to understand her ways.
Our lifetimes are like leaves on a tree of seasons to change; one day we all will go back to the embrace of Mother Earth.
I would like to share the quotes of two Great Men; All throughout my life I enjoyed viewing them on the television shows they created.
Walt Disney... "IF YOU CAN DREAM IT, YOU CAN DO IT."
Carl Sagan... "Somewhere, something incredible is waiting to be know."
Thank You for your time,
Phillip H George ( 7,22,2010 )


July 22nd, 2010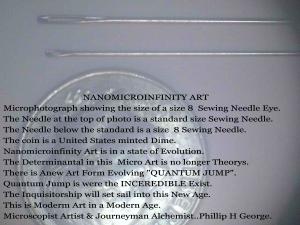 Welcome to a display of the size 8 sewing needle eye were; I create some of the Worlds Smallest Microscopic, Modern Art.
"The Micro Art is genuine" Existing as true works of Microscopic Sculpturing & Paintings. A size 8 sewing needle eye has more then enough space for my Micro Art skills. Over time I have trained myself to work in the size 8 needles; there is on need now; to create Micro Art in the larger eyed needle.
In my apprenticeship years I found the large eyed needles to be a challenge; those first years are called the Dark Ages of Nanomicroinfinity Art.
One of my Goals for this New Modern Art Form; is to keep creating smaller Microscopic Art.
Just how small will it become? I don't know at this time just how small.
In order to keep creating smaller Art; I need to upgrade to more powerful magnification for all of my Microscope Equipment
With the right Microscopic Equipment tools and a little time to work on it; cell size is accessible. "This isn't guff;"
I can see how it can be created; Micro Art on a scale size of cells. And it wouldn't be all that hard to do with the right Equipment.
You can see more of my Micro Art at my Gallery.
Microscopist Artist & Alchemists Phillip H George ( 7,22,2010 )
Thank You.